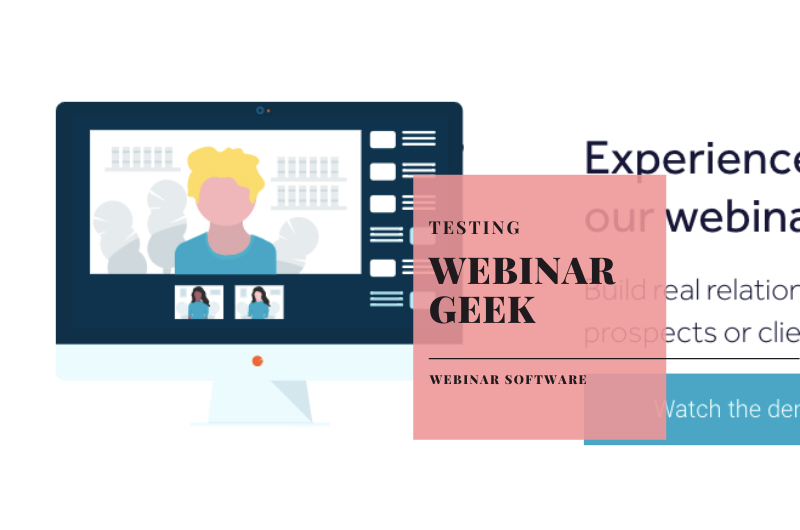 WebinarGeek – webinar and digital event software review
WebinarGeek is a smaller software platform for live webinars, automated webinars, on-demand webinars and hybrid webinars. They started in 2015 in the Netherlands. Compared to other softwares, WebinarGeek has a focus on marketing tools as well.
After Sign Up
If you are taking out a Free14 Day Trial, once you sign up you are directed to a survey, which is a bit longer than I expected, so I skipped on it. Then you arrive on a landing page, that points you to "create your first webinar".
You also receive an email, that is pretty useless.
Main Dashboard
Very simple, with Webinars, Videos, Channel, Statistics along the top bar.
Creating a Webinar
Very simple to create a webinar, just select the box at the top that says [+ New Webinar].
You choose the type – Live, Automated or On Demand, date, time and whether is Public, Unlisted or Private.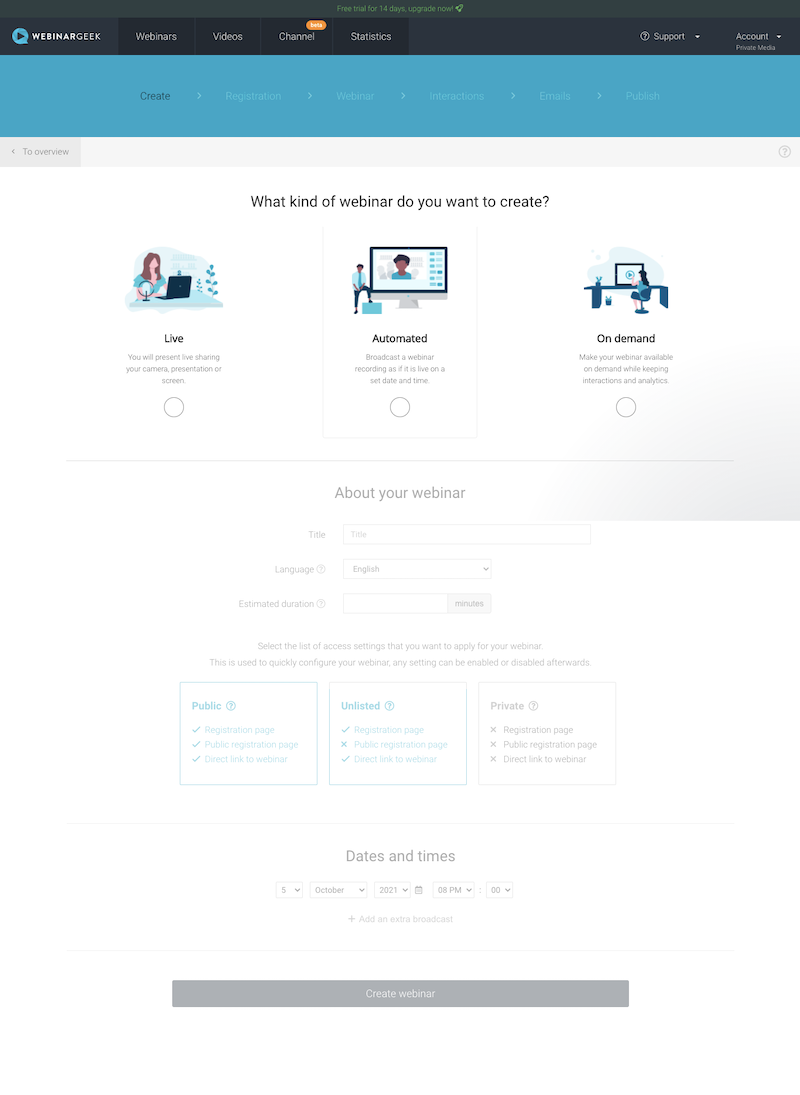 You then arrive on a Registration Page customiser.
After you have customised your design, you can modify a lot of the webinar settings:
Registration fields
Confirmation page
Embed
Payments
Integrations
Settings
When you move along to the [Webinar] tab, you can customise the Countdown page, upload a Presentation, update the Chat Settings, set up a [Sales Page] to send attendees to after the webinar, and set up a Survey/ [Evaluation Form] to pop up after the webinar.
Then moving to the [Interactions] tab, you can set up a Poll, Quiz, and Call to Action.
Next, the [Emails] section, you CAN customise your Emails and Email Sender – very important!
The webinar
It was easy to use. The layout is a little…. clunky. I do like the "Dry Run" feature though, in case this is needed for bigger, or more important webinars. I WISH I could switch the view to "gallery" though.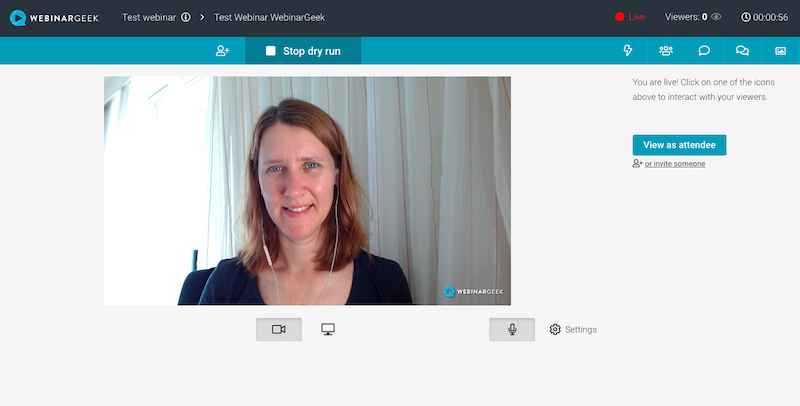 Digital Event Needs
Here is how WebinarGeek meets the digital events criteria:
Moderator control – yes
Brand control – yes, and you can change the email name of the person the automated emails are from. This is done by setting up individual "Emails".
Up to 5 or 6 presenters or panelists – yes
Superior HD video – yes
500 – 1,000 viewers – yes
Cloud-based recordings/ Saved recordings – yes
Social media live-streaming – no
Fast and helpful support – yes, via online chat
Chat – yes
Polls – yes
Reporting – yes
Price – from EUR19/ month for up to 25 attendees, then EUR75/ month for up to 500 attendees, then EUR199/ month for up to 2,000 attendees.
Verdict – 11/12
WebinarGeek looks like a great webinar tool. The recording quality looks pretty good. It almost does all the things I am trying to do across 3 separate brands. Not being able to stream to social media is kinda a deal-breaker. Also the actual screen for the webinar, that doesn't offer a "gallery view" is a deal-breaker as well.