Demio – a webinar and digital event software review
Demio is a highly rated, and highly reviewed webinar and video conferencing platform that started in 2014 in USA. It was built with SaaS companies in mind, so I need to be sure that it can work as an engagement and digital event platform for a media business.
After Sign Up
Once the account is set up, there is a short video tour of the platform. It sets up a dummy event, so you can see what joining a room is like. You can join the dummy event and see what it is like to run a webinar in Demio.
They also then invite you to a Demio Introduction and Best Practices webinar, to help you learn the platform faster. Or if you are in Australia, like me, these webinar times are insane (1am, 4am) so luckily they give you an option for a 20 minute one-on-one to get the questions answered.
Main Dashboard
Clean and simple, with tabs at the top to switch between Schedule and existing Events.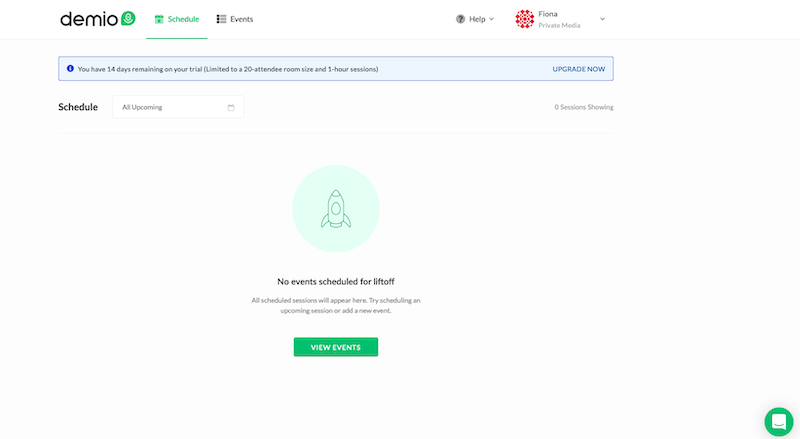 Creating an Event
It is simple to set up a webinar. Just select the Events tab at the top, and then select the big green button that says [+ ADD NEW EVENT].
In setting up the event, you can customise the Registration page, modify some text in the Email Notifications, set up assets you'd like to use, set up Presenters and send them invites, modify the timezone and language, and activate any integrations (Zapier/ MailChimp/ etc…)
Lastly you get your event link, and embed code (if required).
The webinar
It was clean, easy to use, and the image looked crisp. I also liked the "Go on Stage" feature which took a little while to adjust to. I used the software to record a one-on-one with a favourite journo of mine. The recording was really good.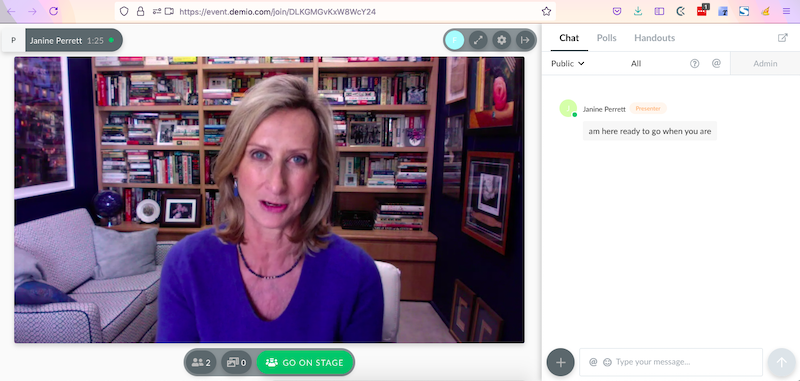 Digital Event Needs
Here is how Demio meets the digital events criteria:
Moderator control – yes
Brand control – some, but cannot change the email name of the person the automated emails are from.
Up to 5 or 6 presenters or panelists – no, only 4 presenters
Superior HD video – yes
500 – 1,000 viewers – yes
Cloud-based recordings/ Saved recordings – yes
Social media live-streaming – no
Fast and helpful support – yes
Chat – yes
Polls – yes
Reporting – yes
Price – only if I buy 1 year subscription, does the price come down closer to what I'm paying for Zoom. Prices start at USD$34/ month for 50 attendees, USD$69/ month for 150 attendees, USD$164/ month for 500 attendees, USD$257/ month for 1,000 attendees, and then an enterprise plan.
Verdict – 9/12
Demio looks like a great digital events tool. If you are one business or brand with a small audience, I would definitely recommend it. It doesn't look right for my needs at this point but I will keep an eye on the features moving forward.