Livestorm – a webinar and digital events software review
LiveStorm is a software platform for online meetings, webinars, virtual events, automated webinars, and on-demand webinars. They started in 2016 in the Massachusetts, USA. Compared to other softwares, LiveStorm looks closer to a Zoom competitor than the others.
After Sign Up
Unless other softwares that have Free Trials, this one has a Free Account. I like this better, because the time pressure to fully test a webinar before paying a whole chunk is too short on most softwares.
To finish signing up, you confirm your email address. Then you arrive on a landing page, that points you to create your [+new event]. They also have a brief survey.
There is also a pop-up in the software that invites you to join their Livestorm Live Product Demo. Seems like a nice idea, except that all the timings are at 1am and 1.30am in the morning. I guess APAC is not their target region.
Main Dashboard
Very empty and simple, with analytics along the top. The main menu is on the side bar.
Creating a Webinar
Very simple to create a webinar, just select the box at the top that says [+ new event].
There are then Main Settings to fill in, followed by "Optional settings" – Registration, Event Room, Design, Emails, Recording and on-demand, Integrations and Automation. All fairly intuitive.
I found this software the most confusing so far. I was searching to see where I could customise the Sender Name for the emails, but once I reached Support, I learned that it's not possible, so this software is a no-go.
The test webinar
I could not get my logitech webcam to work, even though I selected it as my main webcam. The system kept loading my built-in camera, which was very annoying.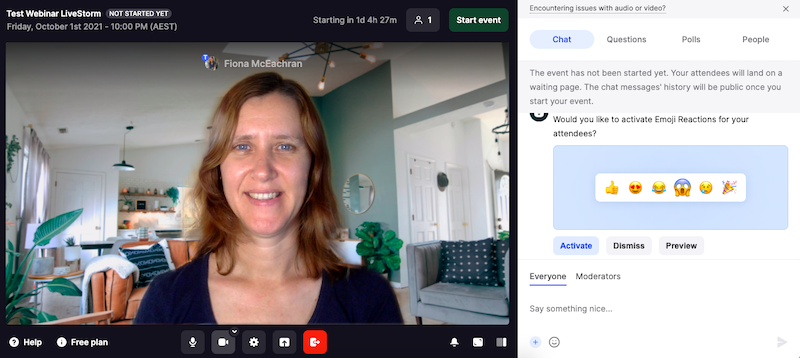 Digital Event Needs
Here is how Livestorm meets the digital events criteria:
Moderator control – yes
Brand control – no
Up to 5 or 6 presenters or panelists – yes
Superior HD video – yes
500 – 1,000 viewers – yes
Cloud-based recordings/ Saved recordings – yes
Social media live-streaming – no
Fast and helpful support – yes, via online chat
Chat – yes
Polls – yes
Reporting – yes
Price – Free tiny account, EUR89/ month for up to 100 attendees, EUR178/ month for up to 250 attendees, then EUR268/ month for up to 1,000 attendees.
Verdict – 10/12
Livestorm looked like a promising webinar tool, especially with the leaning towards virtual events. However, I do need to customise my email from names, and social media live-streaming is needed as well. So for those fails, this is not a good option.