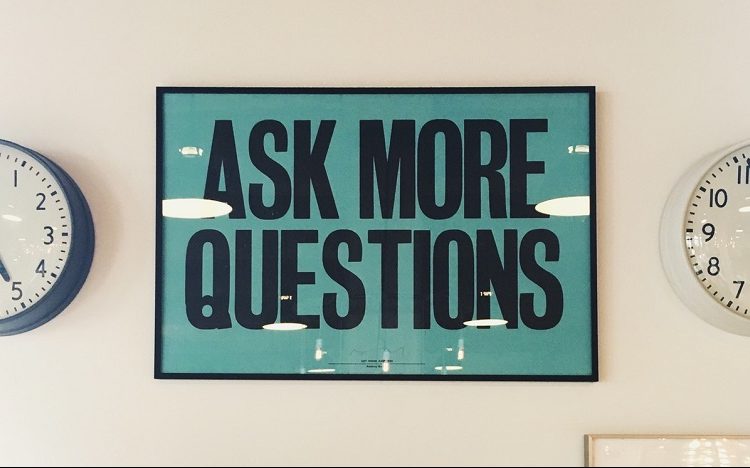 Is Quora the New Social Media Player?
Somebody recently asked me – are you on Quora?  And I thought – Oh my goodness (sigh), another social media network to invest time and energy into.  What on earth is Quora?
Just when you thought you were getting a handle on your social media accounts, and you've developed your rhythm, another network starts gaining ground and you wonder if you should be paying attention.
So, What Exactly is Quora?
The site officially started in June 2009, and became available to the public for use in June 2010.  Likened to other Q&A sites like Yahoo Answers, the official definition from the website is:
Quora is a continually improving collection of questions and answers created, edited, and organized by everyone who uses it.
Basically, it feels like an extension on current social networks (like Facebook and Twitter) as well as another social network unto itself, where users can "follow" or "be followed".
How does Quora Work?
Quora is a little bit like Wikipedia, but more Q&A focussed, and more frequently updated.  Once your profile is set up and you've linked it to your Facebook Profile and Twitter account, you can then start asking Questions, or under various topics, you can write out your answer, in response to other's Questions.
The Basics of Quora
Your Profile
Once you have opened your new Quora account, you need to set up your personal profile.  You can open the account with your Twitter account or your Facebook account, or you can connect to these accounts once your profile is open.
You can also connect your Tumblr blog or WordPress blog, to share Quora onto your blog, if you wish to.
Then, on your personal profile page, you have the ability to add a tag-line about yourself under your name.  This can be areas of interest for you professionally, or your job title.
To expand on this, on the right-hand side, you have an area where you can write more detailed and descriptive information about you, your profession and your company.
Importing Friends
If you decide to connect Facebook to your account, you can search for contacts and friends you have which may already be using Quora.  Or under "Invite People to Join Quora", you can enter your email address and password, to invite additional contacts, or you can invite people one by one through a tailored email.
It may be a good idea to import your friends in the beginning, to give your account a kickstart, and show people that you are now using Quora.
Topics
If you connect your account to Facebook, Quora may automatically import your profile's "Activities and Interests", and set them up as Topics in your Quora profile.
If you are using your Quora account, as a professional account, you may not like to be answering questions under the topic of "Pearl Jam", so if you go to your main profile page, and click on "Following ___ Topics", you can easily unfollow and amend the topics you follow.
To search for new and more relevant topics, you can click on "Suggested topics for you", or you can go to the Search box, and look for a specific topic.
The topics you follow and engage in, really are the pieces of the Quora puzzle that form your overall profile.
Why Use Quora?
Quora is gaining social media ground at a rapid rate, and has great potential to become an excellent and established Q&A site.
Starting out in Silicon Valley, heavy users already consist of  influential people such as:
and many more…
Posting Questions and Answers
On the top bar of the website, you can post any question you like.  So if you're a business owner conducting research, this is an easy and excellent way to get some answers.  As you post the question, the bar works just like Google Instant, and you can see if someone has already asked the question before.
If your question doesn't appear, you are free to click on "Ask Question".
Just as an Example, the answer to the question – how many people use Quora?  Was = December 14th, 2010: 378,639.
Post a Message to your Followers
On your own profile wall, you can build up your credibitility by posting a message on your wall, that your followers can see.  When posting the message, you can give the post a Title, then add whatever text, links and images you like below, with some simple WYSIWYG editing options (like Word).  You also can link of other Questions, Topics OR People on Quora.
Suggestion:
You can use this space to share your "Thoughts of the Week" or "Thoughts of the Month".  Or to comment on a recent event.
Business Opportunity
What makes Quora different for business owners, is that your business can be set up as a "Topic", which people can follow, and ask questions.  This could be really helpful for SEO as well, as the site has been set up with very SEO friendly links in the title heading.
Once your business is set up as a topic, you can:
Add a main business photo/image, which could be your business logo
Type up an introduction, which could be your business topics, or a little summary about what your business can do
Add a FAQ section, which is a wiki of frequently asked questions about your business
The opportunity here to show your business expertise, but also engage your customers, potential customers, contacts and friends is huge.
In Summary
Quora stands as a new tough contestant in the overwhelming world of Social Media.  And definitely gives further boost to the new popular profession – Social Media Manager, as businesses are counting the hours and energy required to keep their social media profiles and networks in sync and up to date.
I like Quora, and I would recommend it, only for business professionals and owners who are already established in Blogging, Twitter and Facebook first.
What do you think of Quora?  Are you already spending time on other Q&A sites?  Could you now be spending time on Quora as well?
Feel free to comment.